According to data collected by Shopify, Social Media represents the most important acquisition channel for online stores, accounting for more than 30% of revenue. Furthermore, this channel represents a critical customer service channel and a way to grow a brand.
Therefore, having a well-thought strategy and robust and professional social media operations is very important.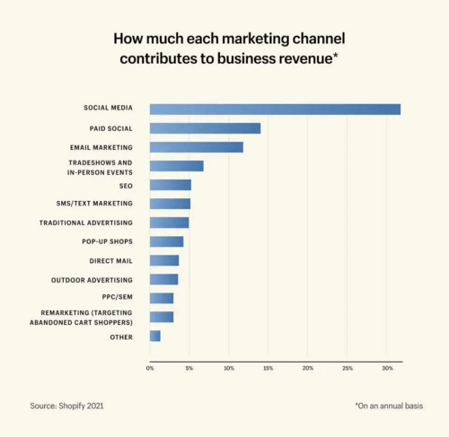 The challenge for small and mid-sized companies is that budgets are restrained. As social media marketing jobs in the US get increasingly expensive, so does the cost of professionally handling these functions.
Running a robust operation requires taking care of time-intensive activities such as:
Developing content plans

Creating all the content to be published, including graphic design and copywriting

Managing comments by users, including questions about products and complaints

Planning, running, and optimizing ads.

Tagging every single URL following proper naming conventions

Implementing pixels

Making sure everything is being correctly tracked

Doing social listening to obtain market insights

Doing social selling to find potential clients proactively

Analyzing data

A

mong many others.




Offshore

Social Media Marketing

may be what every small company needs.
With the cost of just one onshore social media marketing salary in the US, a company may be able to have access to two and a half, or more people, abroad through a staff augmentation model or another offshoring mechanism. This could make a huge difference in business results when considering the limited budgets that most small and mid-sized companies have and the huge amount of work that needs to get done.
If you are considering these options, we recommend you read our article about Offshoring Digital Marketing Services.
What about
creativity

?

Getting creativity right is one of the main concerns of companies when hiring professional services abroad for this type of media operation. In my experience, there are two ways to handle this right.

One option is to develop your creative concept in-house or hire a local or national creative agency, which could also develop your communication strategy. Then, with the strategy, creative concept, and design guidelines, work through foreign partners and staff on the execution. If you have a clear creative concept with easy-to-follow guidelines, it will be very straightforward for professional and talented graphic designers to follow.

Good graphic designers don't need to reinvent the wheel with every post they design. They just need to be disciplined and follow instructions.

Another option is to have your creative director as part of your foreign team. There are talented, experienced, A-player creative directors all over the world.

The only concern would be the understanding of the target market. If you believe your target market will only be well understood by a local creative director, then maybe the best option is to have this specific role in your country.
Handling
content management
Content management it's a key part of digital media operations. You need the right tools and processes to get this right. Also, you need people with soft organizational skills to make sure things get handled orderly and efficiently.
When choosing your international team for this specific function, you should test for organizational skills. People who are well organized and can handle a lot of information might not be the best fit for all functions, but they are very valuable to handling your content.
Also, tools such as Hootsuite could make everyone's work easier and minimize errors.
What does
a

social media

manager do?

Not every company handles its job descriptions in the same way, but here is a general idea of what typically people with this role do:
Developing

strategies to increase followers, engagement, revenue

, and other KPIs.
Defining a content strategy and translating that strategy to a content plan.
Overseeing the production of the content for the plan mentioned above.
Reviewing data and reports
Communicating with the company's leadership
This is a role that needs to be done by an experienced, smart, and talented professional, independent of whether she or he is located onshore or abroad.
Conclusion
For an online store to be successful, it needs robust management of its social media operations. This requires process and a lot of people; normally, more than the ones a company can pay.
Working with an international partner can make a difference with social media marketing and help an online store be successful.
You might want to read about low-quality leads and how to avoid them.