Time is valuable. ¿Want to get into
offshore outsourcing
right away? Get ahold of one of our experts in no time
here
As companies looking for growth in the wild west that is online marketing, we all have our eyes more or less set on the same goals. Ahead, we list some of the few objectives regarding scaling to the next level:
Expand our reach to possible customers, partners, associates, or audiences.

Generate leads and conversions, amass followers, and consolidate sales-ops.

Increase profits at lesser operational costs.

Set up the demand for our services or products.

Position our brand at the top of the hill of competition
To achieve this, relying upon a good Digital Marketing outsourcing company comes in handy, particularly if we consider the benefits of boosting our presence across new territories while we hand off a percentage of our work to an offshore outsourcing crew.
Now, we've had our fair share of experience to ease your way into Outsourcing Digital Marketing strategies to find the talent you might need when you need it (or even if you don't know that you desperately need it!). Contact us for solutions and support the Julius way for all your Digital Marketing Outsourcing needs.
But, first things first.
What is an Outsourcing Marketing company, and why should I hire one?
Outsourcing digital marketing is when a business hires an outside company to connect with experts in the field to enforce your cyber presence and build the bridge between you and your potential customers, partners, audiences, and beyond.
Additionally, companies that outsource services of these characteristics versus, for example, the ones offered by a White Label Digital Marketing agency, behooves of the uniqueness that a tailored-suited experience can give because anything done for you will shout out your personality to every corner. This consistency will keep you at ease since none of the services provided will reappear like another ready-made template up for grabs to anyone out there.
How does this benefit my company?
In short, digital marketing outsourcing companies place in the hands of competent people in another country myriads of tasks that don't necessarily need to be handled by your in-house team. Whether it is your SEO and indexing targets, your Social Media exposure efforts, or complex data analysis, professionals worldwide can take on multiple activities for you, especially in Latin America, while cutting costs in your annual budget.
That indeed sounds good. And although you might be wondering something along the lines of "can such a broad endeavor run as smoothly as it seems?", here at Julius, we can show you how outsourcing Digital Marketing services can get as neat as you want it to be.
Presuming you lean on the right people while setting up the basics, you'll be ready to outsource marketing services and blast off your journey into the marvelous landscape of an offshore outsourcing strategy. So, let's begin!
What outsourced marketing services can I, you know, outsource in my Digital Marketing strategy?
Ah! This an excellent question to begin diving into the nitty-gritty of our subject matter. To find out what kind of tasks you can accomplish through outsourcing marketing jobs, here goes a list of different processes that you can freely delegate to other teams while yours keeps both hands on the steering wheel of your entrepreneurship (no pun intended):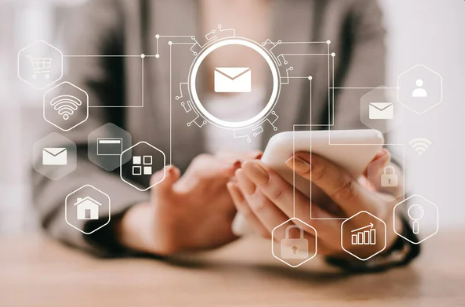 Search Engine Optimization (SEO)
One of the more common but equally important tasks in a Digital Marketing structure, a good comprehension of the ever-so-changing SEO environment in the hands of the right people can raise our digital presence and enhance how users find and consume our content. In other words, we want to be seen by our target demographic like a message in a bottle floating in the vast ocean of the internet and its temperamental waves of search results.
How to get it done?
If not an easy job to do, given the amount of time this ensues and the fact that our specialists must be highly trained staffers, this is why you should outsource SEO to offshore outsourcing. The idea is to ensemble a team to successfully ride out the tides of the virtual positioning sea while harvesting the benefits of this approach to your strategy.
Being something we've gotten to know well enough for some time now, here at Julius, as a Digital Marketing agency, we dedicate time and work to hand-pick suitable candidates for a diverse selection of clients who understand the relevancy of catching the spotlight in platforms that matter to them and their consumers.
Paid Advertisement
Good ol' Paid Advertisement. At times tucked down under the more wide-ranging SEO blanket, a dedicated process is about getting the most sales, conversions, traffic rates, and follower acquisition, according to investment. Here, the concept is to gain solid footholds with the financial resources available at any given time.
If it leads, it kills. This mindset probably is one of the wisest to keep while sensibly funding our campaigns in whatever platforms we want to figure in to lure out potential customers, businesses, partners, and more. Thus, an outsourced marketing agency can also help you with a specialized team in paid adverts whose responsibility is targeting the right audiences.
How to get it done?
Whether managing backed campaigns, mastering copywriting using particular keywords, or allocating the budget where it needs to be, digital outsourcing companies can be the way of undertaking the meatier part of your market placing efforts while keeping you updated about success or failure rates to improve strategies.
At Julius, we've got the chance to explore and learn a lot about this endeavor, so feel welcome to hit us up and discuss how to get an outsourced marketing agency to help you build a crew specialized in paid advertisement.
Wow! Anything else?
Of course! We're only scratching the surface. Let's see what else is there.
Social Media Marketing
In a word (well, actually three): Follow. The. Leader. Social Media platforms are THE way to show what we've got and flaunt the cutting-edge approach we've developed to talk to our audience – even possibly to get to know them better than they know themselves. Gaining trust and building a solid consumer fan base are two effective techniques to pursue in any meaningful Digital Marketing strategy to drive traffic, tighten our sales-ops, generate leads, and more. Also, believe it or not, to equally exert influence in the decision-making process of whoever is listening. One of the objectives to keep our eye on is to acquire authority and become ringleaders in our competitive pool.
How to get it done?
Now, accomplishing this might get trickier than it seems at first glance, given that producing enough content to please the algorithm gods can be quite a grueling, time-consuming effort with the capability of absorbing every minute of your time. Imagine a black hole that slurps everything on its path and that "everything" is your in-house team. Here opens a significant window of opportunity for offshore outsourcing.
By outsourcing Digital Marketing professionals in Content Creation and Community Management, you'll save not only all the time in the world to do other, possibly more attention-needing tasks but also skillfully manage valuable resources of your budget. In other words, one-shooting two birds with the same bullet.
Stick around with us to dive deeper into the Social Media Marketing experience the Julius way.
Branding and Graphic Design
First impressions matter, and that's undisputable – much to the dismay of some of the more progressive pop culture's judgments. As a hard-hitting fact difficult to ignore, the image we put out there for everyone to see and recognize might as well be one of the critical factors in building up our brand's persona, along with communicating its values, goals, and aspirations.
How to get it done?
Outsourcing Digital Marketing experts in branding and graphic design is a must. Think about it. It'll free your in-house team of the immense undertaking that is endowing, creatively and gracefully, the characteristics that will define the presence of your brand, its voice, and personality while reducing your particular intervention to picking and choosing the best options at hand.
Furthermore, giants like Google consider content like infographics one of the better contributions to enrich our audience while gaining traction in their search results, powering our way into the most relevant topics in the platform. Oh, and by the way, a good infographic can only take as much as 45 minutes to compose. So, there you go.
Okay, I understand. But where do I find these hypothetical pros in regions like, say, Latin America?
Great question. This topic we've covered before in other of our long-reads, like this one right here, and there are plenty of places in the region to choose from to draft your all-star squad with the help of Digital Marketing outsourcing companies. To sum up, countries like Mexico, Colombia, Argentina, and Brazil offer the most bang for your buck without compromising quality, abilities, and overall adaptability.
Besides, the processes we've mentioned so far don't necessarily require in-situ operational development. Being that way, resolving, getting into action, and executing, can be done effectively across the continent.
For any further inquiries about offshore Digital Marketing services, you can click on the link above or give us a call at any time.
Got it! Any last words?
Learning how to market Outsourcing services through a Digital Marketing agency like Julius is an excellent way to up your game in the virtual field of placing your company exactly where it needs to be while working with pros all over the continent and saving precious resources simultaneously. It gives you the freedom to designate a budget more conscientiously and delegate tasks to offshore outsourcing, which, in turn, will accelerate the decision-making processes.
By allowing yourself and your in-house organization to focus on what's essential, according to an established plan of action, opportunities for growth, expansion, reach, and shine like a diamond will come on their own to you and your bottom line.
Here, at Julius, we can help you build your customized outsourced Digital Marketing strategy to point you toward the right path. As we've said at the beginning of this entry, we companies all share, to some degree, the same objectives. Feel free to contact us at any time. The sky is the limit, and, in its virtual form, there aren't clouds in sight.
¿Want to learn more? Check out other blog entries here, like this one, where we talk about the challenges digital agencies face at finding talent in 2022.