According to Gartner and Forrester research, by 2020, >80% of the buyer's journey will occur without direct interaction between people.

Students are turning to more digital channels to learn about our institution´s offer. They wait until the end of their journey (after making a decision) to speak with an admissions officer.
As a result, colleges and universities need to rethink their business strategies to be in line with their potential students' journey.
Colleges and universities who understand this shift in the way that both students and parents make a decision have tailored their earned and owned channels to meet their buyer's journey. As a result, they see an increase in profitability and have lowered their student acquisition cost (SAC$).
A shift in buying behavior
Online or digital channels play a vital role in the way prospective students make an enrollment decision, they use a mix of channels, such as search, social, and email, to research and understand their options. They only commit to a traditional effort (picking up the phone) when their interest has reached its peak as a consequence of their digital engagement.
This shift reinforces the need to connect both marketing and sales efforts, as well as the necessary tools to make a higher education institution profitable. However, this comes with a series of implications to overcome, such as:
Having the right infrastructure for data and lead management.
Using advanced technology and tools.
Developing new organizational processes.
Developing new team skills or having an outsourced specialized team.
With this information, how can a college or university improve its processes to increase sales?
1. Use digital analytics to optimize the segmentation strategy
The new buyer's journey allows us to have countless touchpoints with our potential students across their paths.
This data (when integrated with digital advertising and social campaigns) gives us a better understanding of their behavior and preferences, which lets us anticipate their needs. This information is crucial when creating a media plan and selecting the most effective sales channels.
There are three key points in any successful segmentation plan: it must be led by strategy, come to life when put into practice, and above all, generate business results.
How can you rethink your segmentation strategy?
An effective segmentation strategy should have the following characteristics:
Gathering and storage of relevant data generated through online and offline sources to identify who are your potential students and how they behave and interact with your brand (demographic data).
Map multiple journeys for each buyer persona based on their fears or motivators (psychographic information).
Create experiences throughout the buyer's journey: optimize communication, identify interactions, and be aware of any sudden activity changes.
Review and reset. Review each buyer's journey to identify miss-mapped elements, barriers, or friction points.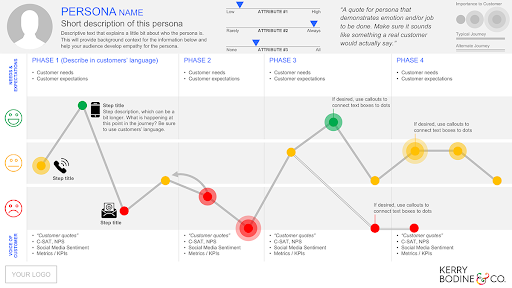 Source: Kerry Bodine & Co.
If you're looking to map different buyer journeys, we recommend these resources.
2. Increase digital engagement
Having no interaction with your potential students at the right time or in the right way might result in missed sales and low profitability for your college or university. To successfully deal with the new buyer's journey challenges, higher education institutions must focus on four key points:
Team synergy. Connecting marketing, sales, and customer service's efforts to increase digital engagement.
Processes. Having the right team and necessary methodologies to monitor any change in trends regarding your institution's conversations.
Technology. Using the right technological assets to automate the previous steps, as well as to send notifications and to create maximum impact with the available resources.
Data. Collecting information from different channels and sources and conducting regular analysis is critical to gain digital space.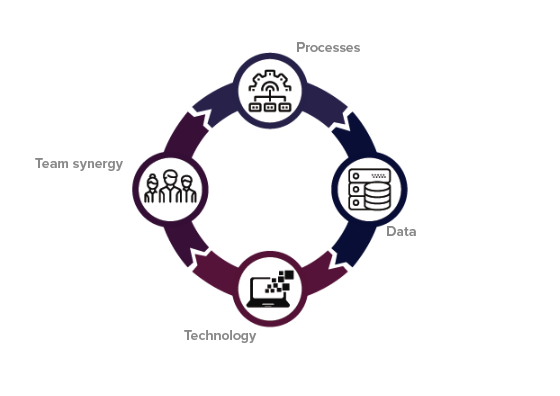 3. Go for the middle of the funnel
Many colleges or universities are continuously implementing lead generation tactics to feed the top of their marketing funnel. However, sometimes, higher education institutions don't need to generate more leads. Often, they need to focus on educating and nurturing their potential students with relevant content that help them make a buying decision.
One peculiarity of the new buyer's journey is that after the first engagement, most potential students aren't ready to buy. They continue doing research, going through their options, and evaluating costs and benefits.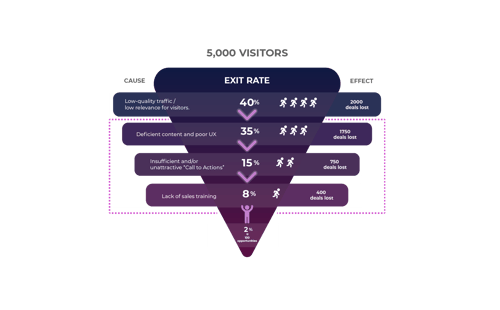 Rather than forgetting about the middle of the marketing funnel (where most prospective students are usually lost), you can strengthen it by:


Providing assistance and support to potential students
Personalizing emails with relevant and contextual offers
Retargeting them through the right channels
Offering valuable and relevant content in your higher education institution's website
Optimizing your online communication
Conclusions
As your college or university evolves and adapts to the new buyer's journey, keep in mind that digital engagement plays a crucial role in avoiding losses in profitability or sales.
Potential students are continuously consuming information on their own before talking to an admissions officer. Creating valuable content for them throughout their journey helps them make a buying decision, and at the same time, ensures that your institution stays top-of-mind.
Another advantage of having high digital engagement is the amount of data you can collect. By integrating and analyzing data across your automation campaigns, website, social media, and CRM platform, you'll be able to identify which journey better suits your potential students' needs. Therefore, you'll gain a deeper understanding of their buying decisions.
Adapting to these changes requires an investment of time and money, not to mention a dedicated effort, and few institutions have been able to do it on their own. Most institutions need a strategic partner to develop and optimize the buyer's journey and tailor it to their business goals.
---
How can we help?
Managing the sales experience throughout our potential students' journey is a challenging task.
If you're looking for assistance at your institution's processes to the shift in buying behavior, make sure to book a slot in my calendar.